Your Kindness Is Appreciated!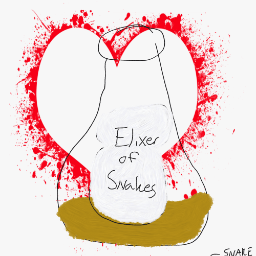 Snake Oil Lore
King Pyro suffered from intense pyromania beginning early in his childhood. For the longest time, there seemed not to be a cure for his ailment. That is, until he met a young traveling salesman by the name of 0xUrkel. King Pyro was immediately struck by the salesman's empathic demeanor and agreed to sample his wares. Upon tasting the Elixer of Snakes, King Pyro was hooked immediately
From that day forward King Pyro's daily diet included one spoonful of snake oil with each meal, and he has declared himself no longer a pyromaniac. To be sure, he still sets things on fire regularly, and has no intention of putting out the burn pit which has become his kingdom's #1 tourist attraction. No, one could even say that nothing at all has changed since 0xUrkel brought Snake Oil into the kingdom. However, if you look past what is right in front of you it is impossible to miss the fact that the world is a better place due to that young Snake Oil salesman.
Yes, he did do that.